We had tons of fun at the Taboo Sex Show in Vancouver, BC Canada from Jan 15-18.  The seminars were standing room only, the people were curious and excited and there was so much to see and do.  You may have seen me on Breakfast Television on City TV Thursday morning promoting the show but if you missed it, I'll be back as a guest on March 11, 2009.
The first 2 couples I spoke with had been married 46 and 40 years respectively!  How cool that they were at the Taboo Show looking for new things to keep the sexy alive in their obviously very loving relationships.  One man confided that his wife was able to orgasm 6 times in succession – he was tickled.  Another man shared how he had learned to rub his wife's back in a way that brought her to orgasm.  One man shared, and I believe him, that his very first lover spoiled him by being able to orgasm 52 times in one session!  No other woman has matched up in his eyes.
Yet many women lined up to ask about and share their concerns about lack of orgasm or dissatisfaction with their sex-life.  Each situation is different yet it always boils down to improving communication whether with your partner or yourself!  That's why I wrote my G-Spot PlayGuide – to help women discover who they are as sensual creatures and find out what they want and two chapters are devoted to helping you share that information with your lover.
I'm also developing a new online program available this spring so you can improve your orgasmic ability – stay tuned!
Here are some pictures and a video from the show:
This is me and "Rev" (an old and very dear friend) the artist who did the sex positions drawings in the book and a G-Spot wizard!
A discreet moment with me and my honey:
Arabesque is Bud and Deb's booth for non-piercing body jewlery: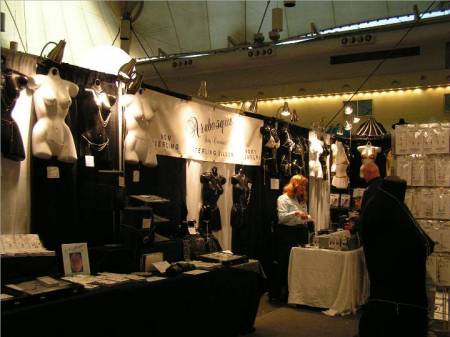 Burlesque – one of the fun booths: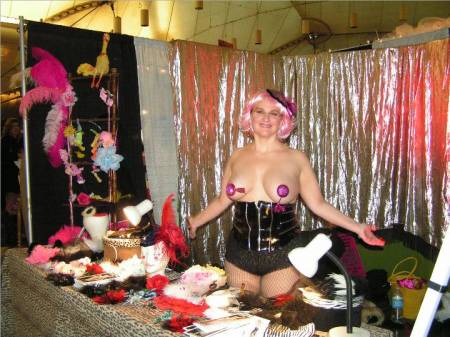 Dancers on the main stage:
Ryann Rain (owner of Stiletto Storm) and one of her dancers Samantha Mack: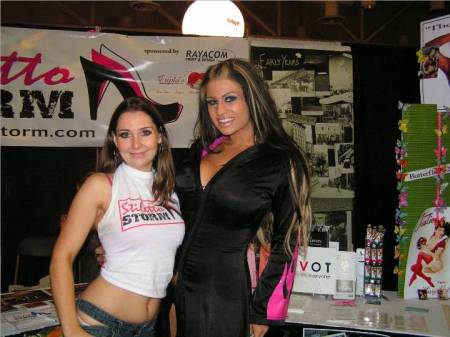 I presented a seminar on Wildly Passionate Sex for a Wildly Successful life and received a lot of positive comments such as:
"I like that it is about being sexually positive"
"Thinking about pleasure as a good thing rather than dirty or wrong – well done!"
"Very empowering and enthusiastic"
"Loved Kim's direct, approachable manner"
"Great Fun!"
"She is a passionate speaker who makes things clear about a subject more important than people credit"
At our booth we had the PlayGuide of course and received many comments on our drawslips.  Lots of "Wow!" and "Awesome!"
Passionately,
Kim Switnicki, ACC
Sex Educator & Intimacy Coach for Women
Rediscover your passion for sex and have a juicy marriage that lasts!
250.753.8692
www.kimswitnicki.com
Author of "Great Sex for Hard Times" and "G-Spot PlayGuide: 7 Simple Steps to G-Spot Heaven!"
Free Report here on the Top 10 Ways to be a Sexier, more Confident Woman